If you've suffered an injury, are recovering from surgery or are living with a condition that affects your hands, chances are you've seen a hand therapist or have received instructions to do so by your hand surgeon. Hand therapists are essential to helping patients recover from injuries or surgeries and can help those in pain get back to living a normal life. Hand therapists and hand surgeons often work closely together to determine the best outcome for their patients.
These five hand and finger exercises are commonly recommended by hand therapists for a variety of treatment plans. They may seem simple, but their repetitive nature can be effective in treating pain, stiffness, immobility and more. The exercises include:
Differential tendon gliding
DIP joint blocking
PIP joint blocking
Wrist flexion and extension
Wrist circumduction (alphabet writing)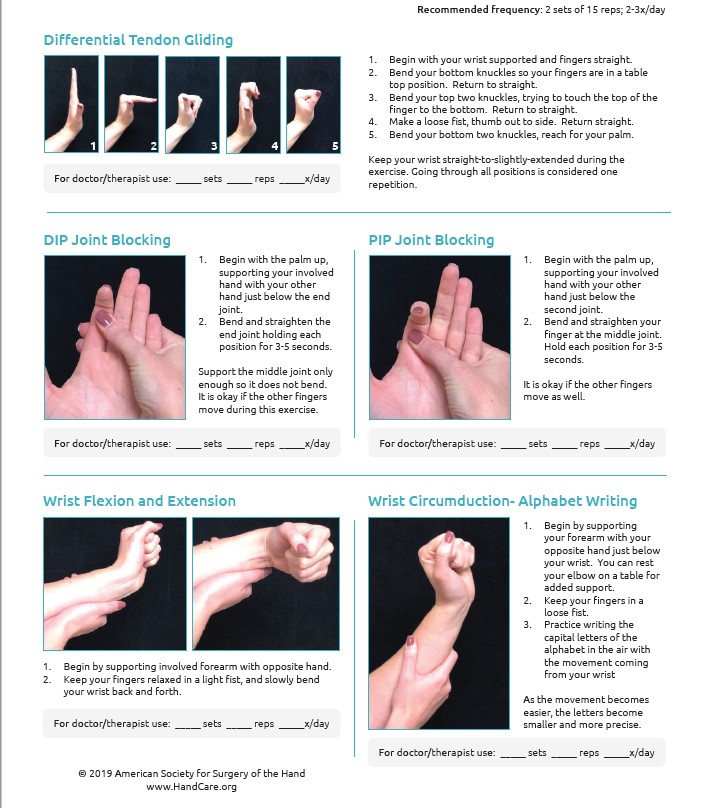 Looking for more exercises or more guidance? Watch videos of these exercises and more.
Please note: These exercise videos are intended to serve as guidance for exercises that have already been prescribed to you by a hand therapist or hand surgeon. Consult your medical provider before performing any of these exercises, and clarify the number of sets/reps as well as the frequency with your provider.
Learn more about hand therapy and hand therapists, including how to find a provider in your area.